My house featured on Houzz
Welcome to my place!  I am so pleased to  invite you to my house and give you a guided tour thanks to HOUZZ,  my favorite lifestyle and home decor online magazine.  Come in and discover my universe through the lens of the very talented Aurélien Vivier.   Text by  Pauline Warlet, the words magician who also orchestrated this whole project!
Here is a sneak peek… For the complete article and many more photos, head over to Houzz by clicking here.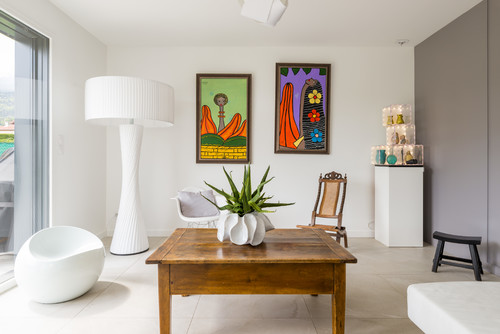 In my interview with Houzz, I share my passion for interior design, tips about creating a unique style and show you many of the treasures my husband and I brought back from our travels over the years.  I'm actually hoping you get a glimpse into my world and where I get my inspiration from. One thing for sure, you should recognize my eclectic style.  Modern and classic at the same time; very colorful yet bizarrely monochromatic!  Get ready for a world of textures and contrasts!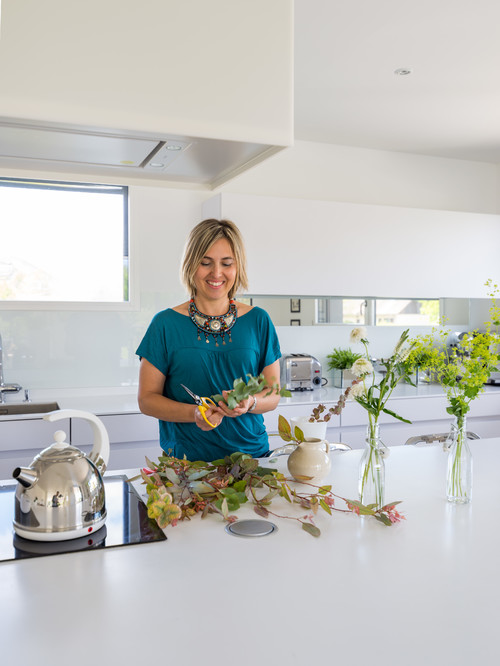 Touches of green everywhere: Plants and flowers are essentials inside your florist's home…  Details from a photoshoot at my house featured on Houzz
Yes, you guessed it…  I can't live without letting nature creep inside my house.  Any time, whatever the season…  In this article, you will spot lots of green accents:  sometimes fresh flowers, other times artificial plants.  Cheating?  Not really, I prefer thinking of it as helping nature when watering and caring for my plants gets a bit out of hand…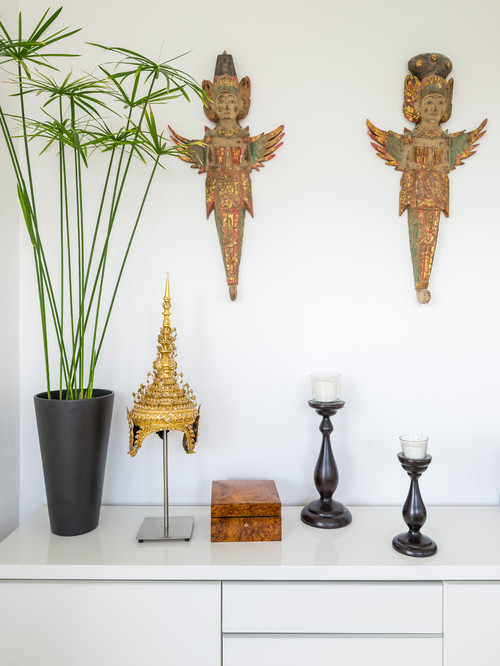 This article also focuses on the  eco-construction of our house as it's been a priority for us.  During the planning and building process, it quickly became obvious to us that we wanted to favour ecological materials and to incorporate the latest technologies to save energy and water.  In my professional life as a floral designer, these are also priorities I hold.  At Arôme by Anne Verborg. we compost all our green waste, we source our flowers locally whenever possible.  We're very respectful of the environment.  We recycle and upcycle everything we can: from containers to packaging….  At home, it's the same: old and new sit happily together on a shelf and family heirlooms find themselves displayed next to DIY projects in a modern and ecological construction.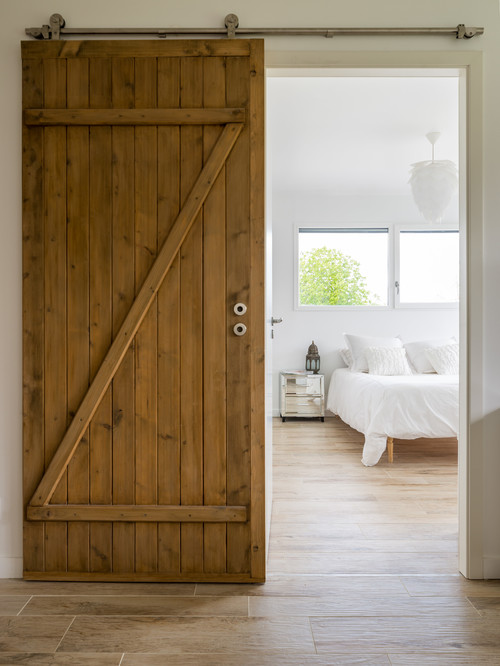 Back to interior design for now:  by clicking on the slideshow below, you will discover all of Aurélien Vivier's images .  Aurélien perfectly captured the essence and the spirit of our house and what makes it a home. From personal little accents through to the kids bedrooms and the garden, you'll get the full tour!    Follow the guide!
Thank you for visiting and do not hesitate to contact us !  Don't forget we also decorate your house and your office with our contract services!